MAGNESIUM INSULATOR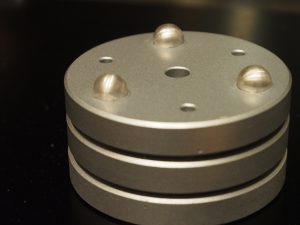 Model number
size
weight(g)
price(USD)
MBI-3-3
Each common
550(3P)
360
MBI-3-4
diameter 68mm
730(3P)
480
MBI-4-3
MBI3=Height38mm
730(4P)
450
MBI-4-4
MBI4=Height50mm
970(4P)
600
The best insulator in the world, nothing to compare
It is not uncommon for insulators to cost more than $ 1000 per set (including uneven sets), and since at least three insulators work, there are many insulators for $ 3,000 per set. It is an insulator aiming at the ultimate that brings the effect. Still, the price is about 400 dollars per set because if you do your best, anyone who is doing audio will be able to afford it, it is meaningless unless you use it for everyone, even if you say that it is expensive About 3 months later, we will release an insulator for about $ 100 per set, so please wait until then.
Grounds for best performance
Uses pure magnesium, the strongest substance on earth for audio
Above all, the materials are overwhelmingly different. The materials used for insulators over $ 1000 are aluminum, stainless steel, and titanium at most. Titanium is relatively expensive, but aluminum stainless steel is an inexpensive material. It's really surprising that some of them are close to $ 2000. Then, if you ask me if it's so effective, this insulator will be much more effective.
Magnesium insulators do not exist other than SUNSHINE and its related manufacturers
Just as SME in the UK says, no one tried to touch it because it was a difficult material … However, the representative of SUNSHINE from a magnesium company made the world's first insulator with magnesium, with other materials. Is overwhelmingly excellent in physical characteristics such as vibration absorption rate and electromagnetic wave absorption.